[ad_1]
In less than one year, more than a quarter-million Americans, including more than 1,100 Idahoans, have died from COVID-19. Among those who've died are more than 130 residents of the largely rural eastern portion of the state.
Statewide more than 118,000 residents have been infected with the disease since the start of the pandemic, which arrived in the state in March.
The numbers are heartbreaking. But beyond the numbers are the stories of the sacrifices made by frontline health care workers. Stories of families torn apart by the death of a loved one. And stories of people with persisting COVID-19 systems months after "recovery."
Here are some of those stories:
David Barrington, 53, photojournalist
David Barrington was at the grand opening of Idaho Falls' Costco when he got the first call.
It had been two weeks since he spoke to his wife. She was calling him on FaceTime, and David was taken aback.
"She couldn't talk because she had the tubes down her throat," he recalled in an interview with a Post Register reporter on the Monday before Thanksgiving.
Nurses were optimistic she'd rebound. Alexandria Barrington, 39, had only began her COVID-19 symptoms with coughing fits. They'd last a few minutes, and she'd recatch her breath. She went into the emergency room to get inhalers.
A few days later, she was hospitalized. David thought it would be a quick stay.
More calls would come through the next month while Alexandria was put on a ventilator. Sometimes she could talk. But David remembers "she could barely whisper" — her throat sore from the machine that forced oxygen down her lungs to keep her alive.
"Her throat didn't ever recover, I don't think," David said. "… She was just stressed and couldn't really say too much."
David didn't think the virus would wreak so much havoc on Alexandria. She didn't smoke. She was young. She had Type 2 diabetes but was managing, David said. Still, COVID-19 gripped Alexandria's lungs, causing both kidneys to fail, until her last breath on Sept. 2.
Alexandria was a bit of a "half-empty glass" person. When things were going well, she would brace for bad news.
This year had been good before they both got COVID-19 in late July. Alexandria got a new job processing unemployment claims and the couple bought a truck that didn't break down. Something didn't add up, David remembers her worrying.
"She said, 'Something bad is going to happen.' And that usually means our car breaks down, (someone) loses a job, or you know, get kicked out of the apartment, whatever, which is no big deal. We'll get through it and move on," David said. "But I never thought it was going to be anything like this."
They watched the news one day earlier in the summer, seeing reports of isolated COVID-19 patients dying without family around.
"I never gave it a second thought that it could happen to her. And sure enough — she said that's what she was afraid of," David said. "To be alone in the hospital and dying. I never thought that would ever happen to her, to us. And then, sure enough."
David keeps Alexandria's eyeglasses on a side table in the living room. He hasn't cleaned out her closet. Or her desk in the computer room where she'd sort images she took of gravestones, researched names of the dead and discovered how they died. She didn't get a chance to clean the stack of papers and labels she printed out to organize for a website documenting her hobby. To David, it still feels like Alexandria is home.
"Her glasses are there," he said. "It feels like she could walk out of the bedroom at any time. I come home from work, and everything is pretty much how she left it."
Alexandria would have turned 40 on Nov. 1. Their 25th wedding anniversary would have been Dec. 9.
Mike Doggett, 70, musician
Mike Doggett was the music man of eastern Idaho. He owned Mike's Music stores in Idaho Falls, Rexburg and Pocatello.
More famously, he was part of one of the most beloved bands of 1960s Idaho: the Affection Collection. The band was first formed by Doggett and three of his best friends when they were 14. Known as "the heartthrobs of eastern Idaho," Doggett was able to pay his way through university with the money he made playing shows. Their rendition of "Apple Blossom Time" went No. 1 on the charts in Idaho while Doggett was still in college.
The Affection Collection played shows, mostly class reunions, up until his last days.
The Beatles were just starting to take off when Doggett was a teenager. He was obsessed. Of course, in the days before Spotify and YouTube, it was harder to get a hold of music. There was a local band who was known for performing the newest Beatles songs. Doggett and a friend would show up to their shows with notebooks and pens. One would write down the notes while the other wrote down the lyrics. Then they would go home to their instruments and learn them.
"Their music was just like the Beatles: oldies stuff, surf rock, songs about cars and girls," Jeremy Doggett, Mike's son, said.
Doggett's plan was to hit the road after high school and start touring. But then the Vietnam War hit. At that time, if you didn't want to be drafted, you needed to go to college. There, he met his wife Linda. After graduation, the two got married.
"He was humble. He had a lot of talent, but he never tried to show off to anyone. He just sang in church and did his thing. They could have been famous. But he was happier having a family," Jeremy said.
When he wasn't recruiting his children as roadies, he was also a wonderful father.
"Mike loved his kids and grandkids and always made time to support them by attending their sporting events and musical performances. The entire family loved to hear their dad sing. Some of their earliest and fondest memories are of Mike and the band performing at various events such as car shows, dances, at the Fourth of July celebrations in IF and most recently for class reunions," his obituary stated.
When Doggett became ill, it happened quickly. He contracted COVID-19. A week later, on Oct. 28, he was gone.
 Travis Smith, 30, contract specialist at Idaho National Laboratory
Near the end of July, Travis Smith was sitting in the Paramount theater in Rexburg watching "Lord of the Rings: Return of the King." By the time Middle Earth was saved and Frodo had returned to the Shire, there was a strange tickle in his throat. He chalked it up to allergies.
"I got home, took some NyQuil and passed out. When I woke up the next day, my entire body was aching. I felt like I'd been hit by a bus," Smith said.
Smith soon tested positive for COVID-19. An outbreak happened at the Wells Fargo bank branch where he worked. He and a number of coworkers all stayed home for a couple weeks. Then everyone headed back to the office. Except Smith. He didn't understand how everyone else felt better when putting a load of laundry in the washer still left him gasping for breath.
It wasn't until two months later that Smith was able to return to work. Today, five months after that tickle in his throat, he still isn't anywhere near the same person he was before.
"Pre-COVID, I lived a pretty normal life. I never really struggled with any kind of health issues. I was a pretty darn healthy individual," Smith said.
Smith has always loved sports. His car interior, clothing and even his face mask are decked out in the logos of his favorite team: the Tennessee Titans. At age 30, he was still young and active. In his spare time, he played basketball with friends, hit the golf course frequently and was an avid runner. He set a goal this year to begin training for a marathon.
Now, if Smith makes a run to the grocery store, he needs to cancel plans for the rest of the day to recoup. If he holds a conversation for more than five minutes, he will more likely than not pull out his inhaler. The inhaler is a new thing. Smith brings it everywhere: to work, to the store, keeps it next to him when he's on the phone. Before July, he had never used one in his life. His heart isn't the same either. He has developed a more serious form of tachycardia, which causes episodes in which his heart beats painfully fast as if it is "trying to crawl between (his) rib cage and shoot out." Everything tastes and smells like "sour metal;" like licking "the middle of a car engine."
"Everything I eat and everything I smell is awful, and it's almost ruined food for me. It hasn't improved over time," Smith said.
It has been frustrating for Smith to watch the dichotomy of conversations surrounding COVID-19: either you recover in a matter of weeks or die. He knows from experience that's not the case.
"I'm a big advocate for trying to help people understand the middle ground of COVID. We don't have a statistic on us, and therefore we're pushed aside pretty frequently. Whenever the news is talking about COVID, it's always about death and recoveries. But recovery is a relative term," Smith said.
And it has been hurtful to hear people "come up with conspiracies and question the validity" of the coronavirus.
"It's like, well then what did I deal with?" Smith said.
Elizabeth Crawford, age 40, professor at BYU-Idaho
"I just thought, 'I am going to die. I am going to die here at home. This is it.' It was probably the darkest moment of my entire life," Elizabeth Crawford said.
Crawford has never considered herself a "weak person, physically or mentally." Crawford is a veteran; she served in the United States Army for 15 years. She first signed up for active duty after the September 11 attacks happened while she was living in Manhattan.
She is also a university professor with multiple degrees. She has taught music at BYU-Idaho for the last five years.
Crawford also didn't think she was particularly at risk for having a severe reaction to COVID-19. She has a pacemaker, a thyroid condition known as Hashimoto's and a Vitamin D deficiency. She considered them all mild, manageable medical conditions.
"When they talk about underlying factors, there is such an emphasis on being very old or being severely compromised with an autoimmune disorder. You just think it's these really extreme, fringe issues that you need to worry about," Crawford said.
Crawford contracted COVID-19 after going to her sister's house to watch the first presidential debate. Between the two families, six people contracted COVID-19 after that night. For everyone else, it was like a cold or a mild flu. But not for Crawford.
"It was just a slog through hell. Once the symptoms began, they kept evolving and changing and getting worse day after day after day," Crawford said.
Two weeks in, she developed a "spasmodic cough that wracked (her) entire body." Doctors diagnosed her with bronchitis. Four weeks in, Crawford went to the emergency room after not being able to breathe. She was diagnosed with bacterial pneumonia. Both Crawford's bronchitis and pneumonia are believed to have resulted from COVID-19, for which she continued to test positive 45 days after her initial diagnosis.
After the pneumonia diagnosis, Crawford's doctors told her they would have to take an even more aggressive treatment approach. She began steroid and antibiotic treatments. She started going into the clinic for daily injections. Crawford was now using an inhaler for the first time in her life. She was now five weeks into COVID-19 with no end in sight.
"At that point, I felt like my mental health just collapsed. … I was propped up in bed at night. My entire body was shaking with constant tremors. I had incredible chest pain. I had been to the ER. I was in incredible pain. I had pain management which was not touching any of the pain. It had reached a fever peak," she said.
One of the most alarming things for Crawford is the question as to whether lung damage will impact her ability to play the bassoon. Being a bassoonist is her identity. She studied the bassoon in college, played it in military bands all around the world, played it in orchestras to enormous audiences and now teaches it to others. Her lungs are her life. Doctors still don't know when or if she can play again.
Slowly, things have started to improve. She finally tested negative. Today, 72 days after her diagnosis, Crawford feels she has rounded a corner. Rounding a corner still means full body aches, random waves of nausea, "headaches all day every day," a "chunkiness" in her lungs, difficulty breathing and exhaustion. No one has an answer for her as to when these symptoms will end.
But at least she doesn't feel like she is going to die.
Marley Bridges, 24, nursing assistant
Marley Bridges, a 2014 class of Skyline High School graduate, doesn't remember coming home.
In July, Bridges flew from Albany, N.Y., to Salt Lake City on the tail-end of two months working in an events center turned makeshift field hospital and a long-term care center.
"I was working 16 hours a day for eight weeks," she said.
Bridges headed to New York City during the height of the pandemic. She picked up a traveling nurse gig to work at the Javits Center, an events center converted into a makeshift field hospital as the city's hospitals were swarmed with an initial wave of COVID-19 patients.
As Bridges wrote on Facebook in May, it "was everyone who couldn't pay for medical care. The homeless, mentally ill, and anyone really economically challenged. It was in some ways a good service but in other ways very dark and incredibly sad."
She was only on the job at the field hospital for two weeks. Federal health officials shut the center down in early May, as the surge of COVID-19 patients died down.
"When the makeshift hospital closed I thought my mission was over," she wrote on May 19, "but little did I realize I was just getting started." Patients at Javits were being sent to understaffed long-term care centers.
She saw the toll it was taking on health care workers. Many, working low wages often in non-hospital settings, would leave "because they weren't willing to risk their life for $9 or $10" an hour, she said.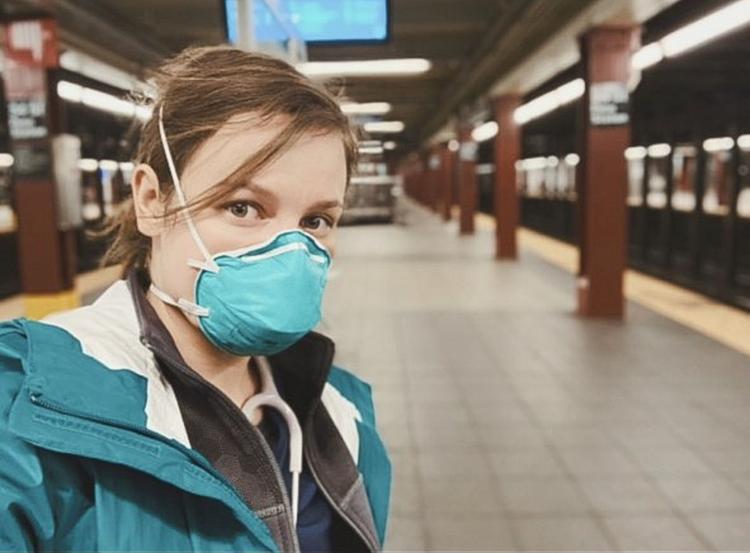 "I am still healthy acting as a nurse, janitor, team member, social worker, and a friend in the darkest place I could find," Bridges wrote in May.
When she got home, her face was flush, and her skin around her nose irritated from long days of wearing N-95 masks. She slept for two straight days, in and out of reality, thinking about the patients she'd seen die alone.
She got a job for St. Luke's Medical System in McCall. And she finally tested positive for COVID-19 a few weeks before Thanksgiving. A low-grade fever, no smell or taste and a headache that "felt like somebody was beating a hammer around my head" came as she hunkered down in her room in Idaho Falls.
She's glad she got it at home, close to family in Idaho, as opposed to alone in New York without anyone to advocate for her if she ended up hospitalized.
"It's easy to be afraid of it, and you should be," she said. You never know. "You could be that genetic outlier."
What's her message for others? "I just wish people wouldn't wait until they were personally negatively impacted by it. To be mindful, to be considerate, and to have empathy for others."
John Miller, 64, ICU doctor
Being in the ICU this year feels a lot like Miller's year as an Air Force surgeon in Afghanistan.
"Over there, there's no such thing as Wednesday. … No such thing as day or night. You're always there. If you get three hours of sleep in a row, you call yourself lucky. You eat when you can, you sleep when you can," Miller said.
All 10 ventilators at Miller's ICU were in use Thursday afternoon. All COVID-19 patients, as has been the case on and off for a week.
This was hours after Gov. Brad Little asked Idahoans to just wear masks and avoid gatherings to prevent ICUs from being pushed past the brink and being forced to let the sickest die to try and save those with the best chance of living.
Miller is the head intensivist doctor at Idaho Falls Community Hospital. His ICU has been full a lot this week, and administrators have had to tell rural hospitals with few or no ICU beds that there just isn't room to accept their patients. The regional hospital across the street is filling up, too.
"It's slipping into a different mode of care than we're used to," Miller said.
Miller's days in the ICU are like one long, continuous day. Days don't feel like 24 hours. They drone on for the week or two he's on call.
Each morning, he'll do the rounds alongside nurses and respiratory therapists checking on high-risk patients. Mornings are the only "fixed" time during the day when Miller knows what he'll be doing. The rest is a scramble to provide ongoing care to some of the sickest patients that nurses in his ICU have had to deal with.
"COVID patients can be remarkably stable for a period of time," Miller said. That can change quickly. "Any patient can become unstable at a moment's notice," he later said.
"The day is filled with some routine tasks that they just have to be done, and there's jumping into unstable situations and doing everything to make it stable. And that just goes on, day after day after day. Weekdays are not different from weekends. There's no difference in any of that," Miller said. "We have two shifts of nurses. Our shifts change at 7 a.m. and 7 at night."
Between 12-hour shifts that often drag into 15 hours, based on the condition of patients, nurses "come home, try to take care of their kids, maybe get something to eat, then they fall asleep."
The hospital isn't in this position because of the coronavirus pandemic, Miller said. It's because Idahoans and Americans aren't doing the right thing.
"We are overwhelmed," Miller said. "Not because hospitals were not properly designed. We are overwhelmed because a contagious disease, a communicable disease has not been taken seriously by the public."
Even if people deny that masks work, or simply refuse to wear them, Miller and other ICU doctors have to care for those COVID deniers the same way they do other people. If the state activates Crisis Standards of Care, though, doctor's decisions about care will be about who has the best chances of living, not who does the "simple things" to slow the spread, Miller said.
"We're right with them. Fighting along the way with them. And we don't stop fighting for them. And we'll keep doing everything we can," he said.
[ad_2]
Source link